This #8100 album for the Lincoln Cent collection from 1909 through 2009 has a total of 9 pages. Note: Album has room for the 1922 plain, 1970 s sd in bu, proofs from 1975 though the 4 design sets of 2009 (P,D and S). There is no port for the 1955 Double Die. To see more specifics you can click on the small images below for larger page views.
If you currently have this album and you are looking for the next album in the series see the Lincoln Shield Cents 2010 - Date with Proof Only issues Dansco Album #8104
Dansco Supreme Albums are truly the best albums ever designed. Made with extremely durable binders and pages, these albums do not discolor your coins like other albums can. This brand new album holds your coins securely in place with ported holes covered by clear acetate slides. These slides allow you to view both sides of your coins but more importantly protect your coins.
Slipcase Size
1 1/4" Slipcase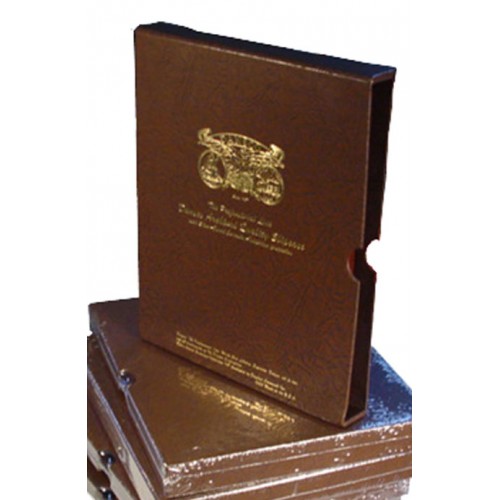 If you would like to purchase this slipcase click here
Lincoln Cents 1909-2009 w/Proofs Dansco Album #8100
Tags: including with