This Early Dollars Dansco Album #

6170

has 2 page. The port labeled are as follows:
Page 1
1794
1795 Flowing Hair Type
1795
Draped Bust Type
Small Eagle Reverse
1796
1797
1798
Draped Bust Type
Small Eagle Reverse
1798
Draped Bust Type
Heraldic Eagle Reverse
1799
1800
Page 2
1801
1802
1803
The last six ported on this page are blank (no labels)
Dansco Supreme Albums are truly the best albums ever designed. Made with extremely durable binders and pages, these albums do not discolor your coins like other albums can. This brand new album holds your coins securely in place with ported holes covered by clear acetate slides. These slides allow you to view both sides of your coins but more importantly protect your coins.
Slipcase Size
5/8" Slipcase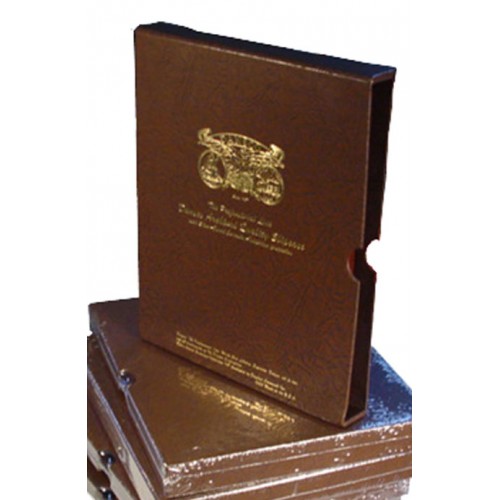 If you would like to purchase this slipcase click here
Early Dollars 1794-1803 Dansco Album #6170
Tags: bust dollar Draped Type Small Eagle Reverse flowing hair